Effectiveness of Lavender (Lavandula angustifolia) and Jasmine (Jasminum officinale) Aromatherapy on the Intensity of Dysmenorrhea in Student of Faculty of Public Health, Universitas Nusa Cendana, Kupang
Abstract
Background: Dysmenorrhea is a menstrual cramp that in general occurs in adolescents. In In
References
Agustina WT (2016). Pengaruh Pemberian Effleurage Massage Aromatherapy Jasmine terhadap tingkat Disminore pada Mahasiswi. Ejournal Keperawatan, 2-(1).
Azurah AGN, Sanci L, Moore E, Grover S. (2013). The Quality of Life of Adolescents with Menstrual Problem. Journal of North American Society for Pediatric and Adolescent Gynecology, 26 (3), 102-108. https://doi.org/10.1016/j.jpag.2012.11.004
French L (2014). Dysmenorrhea. Am Fam Physician, 71(2): 285-291.
Gunardi S (2015). Pengaruh terapi lavender terhadap penurunan skala nyeri disminorea pada mahasiswi STIKIM Jakarta. Jurnal Ilmu Keperawatan.
Hawari, Dadang (2011). Manajemen Stres Cemas dan Depresi. Jakarta: FKUI.
Koensoemardiyah AZ (2009). Aromaterapi Untuk Kesehatan, Kebugaran, Dan Kecantikan. Yogyakarta: Lily Publisher.
Kusmiran E (2014). Kesehatan Reproduksi Remaja Wanita. Jakarta: Salemba Medika.
Laila NN (2011). Buku Pintar Menstruasi, Buku Biru, Yogyakarta: Gramedia Pustaka Utama.
Larasati TA, Alatas, F (2016). Dismenore Primer dan Faktor Risiko Dismenore Primer pada Remaja. Jakarta: Majority
Maharani VY,Fatmawaty E ,Widyaningrum R (2016). Pengaruh Aromaterapi Bunga Lavender (Lavandula Angustifolia) Terhadap Intensitas Nyeri Haid (Dismenore) Pada Mahasiswa STIKES Madani Yog-yakarta,Jurnal Kesehatan Madani Medika, 7(1);43-49.
Nugroho T, Utama BI (2014). Masalah Kesehatan Reproduksi Wanita. Yogyakarta: Nuha Medika.
Nurak MA, Vidayanti, Veni, Hamranani, Siti, (2015). Pengaruh Aromaterapi Lavender dan Relaksasi Napas dalam terhadap Nyeri Menstruasi pada mahasiswi UNRIYO.
Osayande AS, Mehulic S (2014). Diagnosis and Initial Management of Dysmenor-rhea. Am Fam Physician, 89(5): 341-342.
Priyanti Sari (2014). Hubungan Tingkat st-ress terhadap Dismenore pada Remaja Putri di Madrasah Mamba
Pujiati W, Hartati M, Hapasari E (2014). Efek Minyak Essensial Lavender dibandingkan dengan Minyak Essensial Jahe terhadap Intensitas Nyeri Menstruasi pada Remaja. Jurnal Kesehatan Reproduksi, 3(2): 98-105.
Pustikawaty R (2017). Pengaruh Aromaterapi Lavender terhadap Skala Nyeri Haid Siswi Kelas X. Jurnal Keperawatan, 3(1), 15-31.
Sari DP, Hendra, Dewi AP (2015). Pengaruh Aroma Terapi Jasmine Terhadap Penurunan Skala Nyeri pada Remaja Putri yang Mengalami Dismenore Di SMAN 2 Pontianak Tahun 2015. Jurnal Keperawatan, 1(2).
Sari D, Nurdin AE, Defrin D (2015). Hubungan stres dengan kejadian dismenore primer pada mahasiswi pendidikan dokter Fakultas Kedokteran Universitas Andalas, J Kesehatan Andalas. https://doi.org/ 10.25077/Jka.V4i2.3-01.
Sarwinanti Rukmala St (2016). Pengaruh Teknik Relaksasi Nafas Dalam dan Aromaterapi Melati terhadap Tingkat Dismenore pada Mahasiswi. Jurnal Keperawatan, 4 (1), 34-42.
Solehati, Kosasih (2015). Konsep dan Aplikasi Relaksasi dalam Keperawatan Maternitas. Bandung: PT Refika Aditama.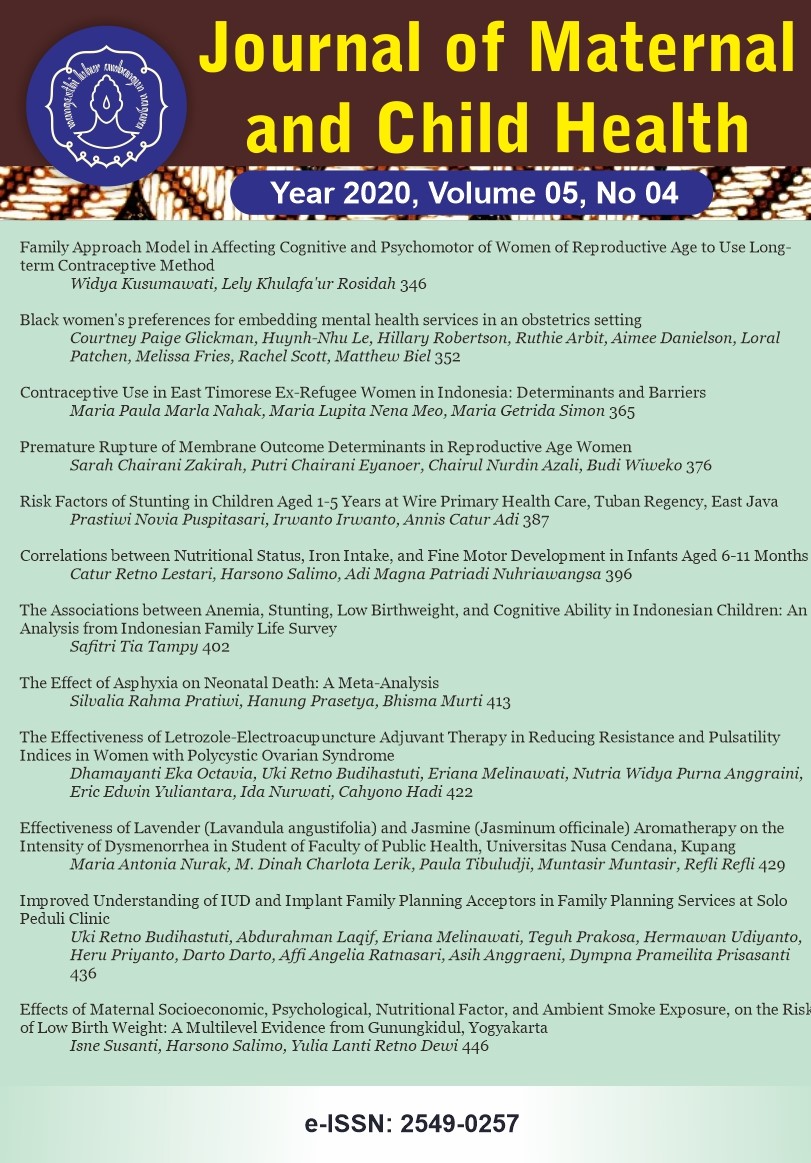 Downloads
Additional Files
How to Cite
Nurak, M. A., Lerik, M. D. C., Tibuludji, P., Muntasir, M., & Refli, R. (2020). Effectiveness of Lavender (Lavandula angustifolia) and Jasmine (Jasminum officinale) Aromatherapy on the Intensity of Dysmenorrhea in Student of Faculty of Public Health, Universitas Nusa Cendana, Kupang. Journal of Maternal and Child Health, 5(4), 429–435. Retrieved from https://thejmch.com/index.php/thejmch/article/view/443