Meta-Analysis the Effect of Intrauterine Device Uptake on the Risk of Ectopic Pregnancy in Women of Reproductive Age
Abstract
Background: Indonesia has a high Maternal Mortality Rate (MMR) and has not met the Millennium Development Goals (MDGs) target. Maternal mortality in Indonesia is caused by bleeding, hypertension, infection with abortion, and prolonged labor. One of the causes of bleeding in the first trimester is ectopic preg
References
Badan Penelitian dan Pengembangan Kesehatan Kemenkes RI (2013).Riset Kesehatan Dasar (RISKESDAS). Laporan Nasional.
Bouyer J (2003). Epidemiology of ectopic pregnancy: Incidence, risk factors and outcomes. J Gynecol Obs Biol Reprod. 32(7): 8
Bouyer J, Rachou E, Germain E, Fernandez H, Coste J, Pouly JL, Job-Spira N (2000). Risk factors for extrauterine pregnancy in women using an intrauterine device. Fertil. Steril. 74(5): 899
Buhling KJ, Zite NB, Lotke P, Black K (2014). Worldwide use of intrauterine contraception: a review. Contracep-tion. 89(3): 162-173. https://doi.org/10.1016/j.contraception.2013.11.011
Center for Evidence Based Management (2014). Critical Appraisal Checklist for Cross-Sectional Study.
Li C, Meng CX, Zhao WH, Lu HQ, Shi W, Zhang J (2014). Risk factors for ectopic pregnancy in women with planned pregnancy: A case
Fransiska RD, Respati SH, Mudigdo A (2017). Analysis of maternal mortality determinats in Bondowoso District, East Java. J Matern Child Health 2(1): 76-88. https://doi.org/10.26911/thejmch.2017.02.01.08.
Hoetomo (2005). Kamus Lengkap Bahasa Indonesia. Jakarta: Mitra Pelajar Swadaya
Kang H (2015). Statistical considerations in meta-analysis. Hanyang Med Rev. 35(1): 23-32. https://doi.org/10.7599/hmr.2015.35.1.23.
Kemenkes RI (2014). Pedoman Pelayanan Keluarga Berencana Pasca Persalinan di Fasilitas Kesehatan (Guidelines for Postpartum Family Planning Services in Health Facilities). Jakarta: Kemenkes RI.
Kemenkes RI (2015). Rencana Strategis Kementerian Kesehatan Tahun 2015-2019 (Ministry of Health Strategic Plan 2015-2019). Jakarta: Kementerian Kesehatan
Lawani OL, Anozie OB, Ezeonu PO (2013). Ectopic pregnancy: A life-threatening gynecological emergency. Int J Womens Health. 5(1): 515
Masturoh, Respatih SH, Murti B (2017). Path analysis risk factors that inflence maternal mortality. J Matern Child Health 2(1): 10-19 https://doi.org/10.26911/thejmch.2017.02.01.02.
Murti B (2018). Prinsip dan Metode Riset Epidemiologi (Edisi V). Program Pascasarjana, Universitas Sebelas Maret. Surakarta: Bintang Fajar Offset.
Murti B (2010). Desain dan Ukuran Sampel untuk Penelitian Kuantitatif dan Kualitatif di Bidang Kesehatan edisi ke-2 (Design and Sample Size for Quantitative and Qualitative Research in Health, 2nd edition). Yogyakarta: UGM press.
Ningrum SS, Indarto D, Wijaya M (2016). Employment status, family income, contraceptive avaibility, and their effects on the use of long term contraceptives in Sukoharjo, Central Java. J Matern Child Health 1(3): 179-187 https://doi.org/10.26911/thejmch.2016.01.03.05.
Prasiska D (2014). Analisis faktor risiko be-rat badan lahir pada kematian perinatal menggunakan meta analysis (Analysis of risk factors for birth weight in perinatal mortality using a meta analysis). Jurnal Biometrika Kependudukan. 3(1): 28
Neth MR, Thompson MA, Gibson CB, Gullett JP, Pigott DC (2019). Ruptured ectopic pregnancy in the presence of an intrauterine device. Clin Pract Cases Emerg Med. 3(1): 51
Ratna P, Hastuti URB, Murti B (2017). Risk factors of postpartum hemorhage in Bondowoso District, East Java. J Matern Child Health. 2(2): 177-187 https://doi.org/10.26911/thejmch.2017.02.02.08.
Saadah M, Respati SH, Aristin OP (2016). Multilevel analysis on the risk factors of post partum hemorrhage in Bondo-woso, Central Java. J Matern Child Health. 1(4): 205-213 https://doi.org-/10.26911/thejmch.2016.01.04.01.
Rusmini (2017). Pelayanan KB dan Kesehatan Reproduksi Berbasis Evidence Based (Evidence Based Based Family Planning and Reproductive Health Services). Jakarta: Trans Info Media.
Saifuddin (2009). Pelayanan Kesehatan Maternal & Neonatal (Maternal & Neonatal Health Services). Yayasan Bina Pustaka Sarwono Prawirohardjo. Jakarta.
Setyaningrum E (2016). Pelayanan kelu-arga berencana (Family planning services). Jakarta: Trans Info Media.
Skjeldestad FE (1997). How effectively do copper intrauterine devices prevent ectopic pregnancy?. Acta Obstetricia et Gynecologica Scandinavica. 76(7): 684
Soetjipto HP (1955). Aplikasi meta-analisis dalam pengujian validitas aitem (The application of meta-analysis in testing the validity of items) (Vol. 2). Buletin Psikologi.
Survei Penduduk Antar Sensus (SUPAS). (2015) Badan Pusat Statistik (BPS) Republik Indonesia.
Sperrof L, Glass RH, Kase NG (2005). Clinical Gynecologic Endocrinology and infertility Ed 6 th. Philadelphia: Lippincott, Williams and Wilkins: 1149
Uetani K, Nakayama T, Ikai H, Yonemoto N, Moher D (2009). Quality of reports on randomized controlled trials conducted in Japan: Evaluation of adherence to the CONSORT statement. Internal Medicine, 48(5): 307
Widhiastuti H (2002). Studi meta-analisis tentang hubungan (Meta-analysis studies of relationships). Jurnal Psikologi 1(1): 28
Wiknjosastro H (2007). Ilmu Kebidanan (Midwifery Science). Edisi ke-4 Cetakan ke-2. Jakarta: Yayaan Bina Pustaka Sarwono Prawirohardjo.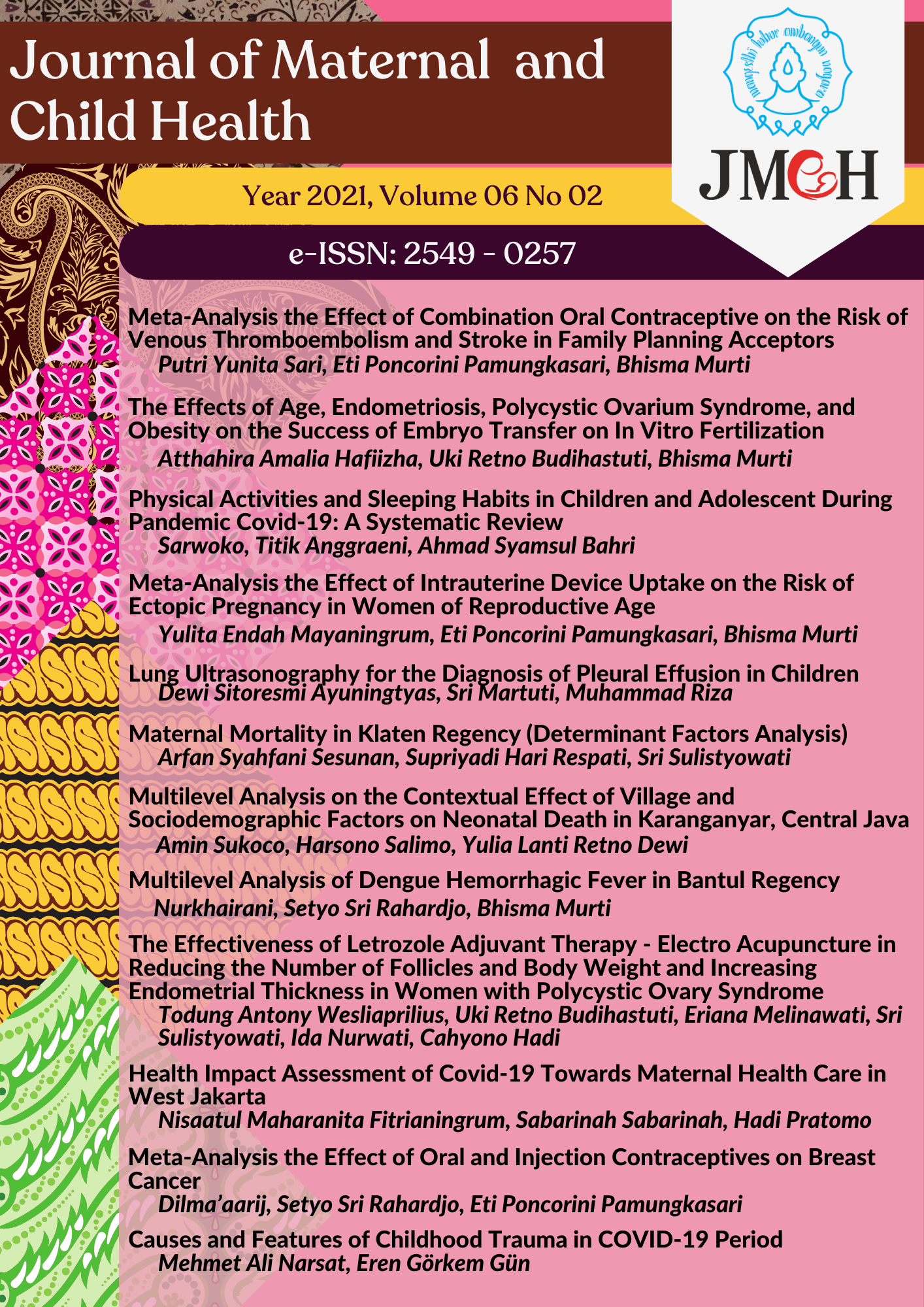 Downloads
How to Cite
Mayaningrum, Y. E., Pamungkasari, E. P., & Murti, B. (2021). Meta-Analysis the Effect of Intrauterine Device Uptake on the Risk of Ectopic Pregnancy in Women of Reproductive Age. Journal of Maternal and Child Health, 6(2), 165–175. Retrieved from https://thejmch.com/index.php/thejmch/article/view/564